Thank you all for your positive comments on our Master bedroom/Nursery and all your well wishes for me and baby as well! They are truly appreciated!!!!
This week is the week for my baby's arrival, and so before I go on a little bit of 'maternity break', I just wanted to share with you the final touches of this room and the basement guest room in the next couple of days.
Personalized crib
I know usually these decals go on the nursery wall, but since we don't have the real nursery ready yet, I put her name here! I think it's really pretty. :-) I also added the gold glitter bunting decal I got from TARGET ($12.99 for 1 set) to add to the design.
I just did the bunting on the other side of the crib
I also added the bunting on our changing table so that the furnitures will match!
We also finished out Master Bedroom gallery wall...
Wall of Love :-) for me and hubs
And with all of these, this room is D-O-N-E!
Next time I'll show you the DONE Basement Guest room which my mom is currently enjoying by the way! So glad she's here, I'm so swollen all over I can hardly do anything at this point! THANK GOD for moms and all they do for us 'kids'!!!
Have a Great Week Everyone!
VEL
Would love to hear your thoughts! Please share away...
As Featured in...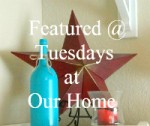 Linking back to...
Dwellings the heart of your home
,
The Dedicated House
,
Our Home away from Home
,
Under the table and Dreaming
,
A Stroll thru life
,
The Style sisters
,
Carolyn's Homework
,
The Winthrop Chronicles
,
VMG 206
,
Savvy Southern Style
,
The Fluster Buster
,
From My Front Porch to yours
,
The DIYers
,
The Pin Junkie
,
The Diary of a real housewife
,
Linda's Coastal Charm
,
Gingersnap Crafts
,
Fluster Buster